Turn Signal System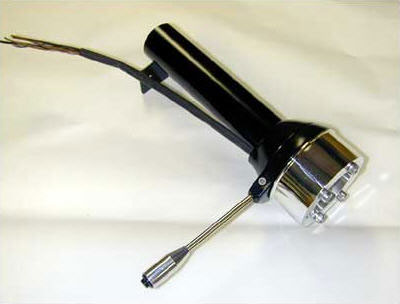 Click here to see a photo of this product installed.

My self-cancelling system is custom-made with a new VW signal hub, like those of the original Cobras, and your FFR steering boss. I cut off the curved VW switch arm and graft on a machined-polished straight arm with a momentary switch threaded into the stalk end. The switch can be wired for high beams or any other function such as your horn. Different relays are required depending on use. Your boss is then machined. I mill the self-cancelling tabs, add my parts, then turn and polish. Instead of being pushed back several inches, the steering wheel maintains it's comfortable driving position.

Kit also includes mounting tube with steering shaft, nylon bushing, mounting hardware and instructions which include relay information with part numbers.

Turn-around time for boss machine work is normally ONE DAY. Also needed are two relays (aprox. price $35), part numbers are listed on wire diagram.
T65TSS Turn Signal System $245, Shipping $15,
plus local CA sales tax for CA residents

To order, please click here.